Thursday's first full session was presented by John Witvliet, director of the Calvin Institute of Christian Worship in Grand Rapids, MI. Much of what he had to say was a condensation of his book, The Biblical Psalms in Christian Worship, published by Eerdmans. All conference attendees who pre-registered received a copy of the book.
I've provided some of my notes from his session below with little context.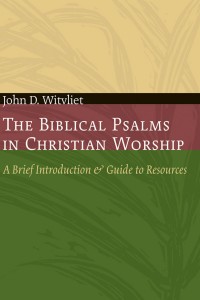 The CRC tradition has largely abandoned psalm-singing – a practice which once characterized it.
John Calvin: When we sing the psalms, we are certain that God has put the words in our mouths.
5 significant challenges to vibrant psalm singing:
Operative Theology of Worship in North America that sees worship as expressive and not formative.
Increasingly in North America, we see worship as expressive.
Sometimes we need to be formed to say something we wouldn't otherwise say.
The Psalms will form in us ways of relating to God that we otherwise wouldn't express.
The Connection between psalm singing, psalm teaching and psalm preaching
Sometimes even the most familiar psalms can become too familiar.
Psalms can help us accomplish the point of the sermon.
"What psalm would this sermon lead us to pray more intently?"
How do our psalm setting do justice to the forms of the Psalms themselves?
Much Praise and Worship music strips verses out of their contexts.
Exclusive Psalmodists do this as well, however, by eliminating verses or sticking to the same melody for singing when the emotion radically changes.
For example, the meaning of Psalm 22 comes from the movement of one section to another.
The Untidy parts of the Psalter
The parts of the Psalter we don't know how to sing, i.e. the imprecatory Psalms: Psalm 25 – the judgment of the treacherous, Psalm 137 – the destruction of infants of the enemies of the people of God.
We should sing every verse of the Psalter but we should not do so on auto-pilot.
Some psalms we pray in solidarity with other Christians.
Appreciate the work of other Christians in apprehending the Psalms
Modal and sacred harp tunes have an ambiguity that can express a wide range of emotions and are wonderful for psalm singing.